ProActive Air Contact Lenses
Fortnightly replacement lens for astigmatic wearers.

Psst...looking for ProActive lenses? ProActive Air is your new replacement!
Unique comfort in a high-performance lens

ProActive Air contact lenses combine the latest material technologies to let your eyes breathe and stay moist naturally for continuous comfort throughout your day and the life of the lens. As an added benefit, they also help block harmful UV rays!

Designed for those who wear their contact lenses more frequently, ProActive Air Contact lenses have a two-week replacement schedule and are designed for both spherical and astigmatism prescriptions.

In a public survey, 80% of people who wore Provision ProActive Air Contact Lenses said that they wear them for over 14 hours a day.
You can enjoy this kind of long-lasting comfort in a daily wear lens too! Shop ProActive Air Contact Lenses online today!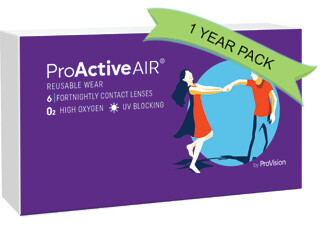 ProActive Air Astigmatism- 12 Month Pack
ProActive Air Astigmatism- 12 Month Pack
ProActive Air- 12 Month Pack
ProActive Air- 12 Month Pack